We had our first day back to homeschool co-op this week. That means, regardless of the calendar, it's fall here. The weather has played along too. Our routine is fairly well established now, though we have a few special things on the horizon. Oldest daughter scheduled a practice ACT for today. Then it was cancelled. So she scheduled another one for next Saturday.
And next Saturday is Daughter #4's seventh birthday. And less than a week later is Daughter #2's 13th birthday. We don't plan to do the Birthday Party thing this year, but we still have a few special plans.
I'm still figuring out how to keep blogging in balance with everything else that has to happen. Check back next week for our annual "Not Back to School Student Interviews" post.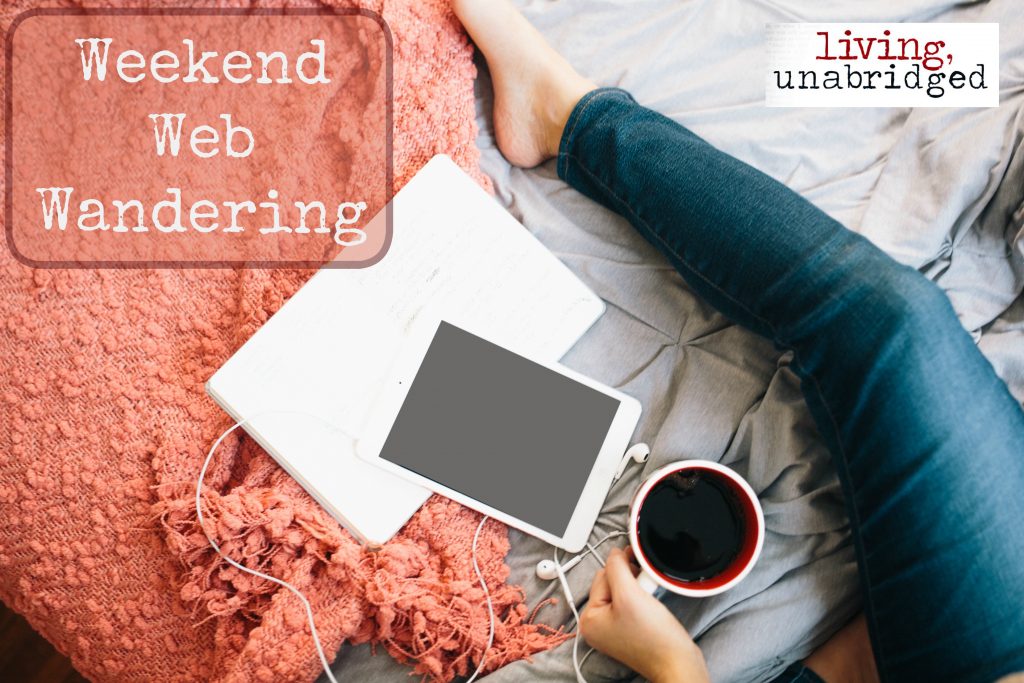 Learning
Living
When Kids Won't Bow to Your Idols by Jennifer Phillips for TGC. Dear ones, I think this tendency is even more common in homeschool moms (to our discredit). We make good things ultimate things. Sometimes I think we believe we can control results, if we just input the "right" things. And really, who doesn't want a good kid? But results aren't ours to control and the goal isn't a good kid: it's a kid who know they need God's grace every day, just like I do. I may write more on this in the future because I've seen some blog and Instagram posts lately that I feel promote an idolatry in homeschooling (and parenting).
This is our home; this is where we minister. I know these realities. And yet this freshly broke my heart this week: Seven Days of Heroin – This is What an Epidemic Looks Like from the Cincinnati Enquirer.
Loving
From Living Unabridged
This week: Raising Young Women – on a fantastic new resource for navigating tween & teen years with our daughters
One year ago: From Infant to High School – Homeschool Plans for All Ages. It's always fun to look back at what we were doing.
Two years ago: 25+ Must Read Homeschool Blogs. Still a great line-up!
What caught your eye this week?


Just this week I discovered that Wayfair has Fiesta dishes. There goes most of my spending money! (I haven't been finding it at thrift stores lately…)


Posts may contain affiliate links. See my disclosure policy if you have questions about this. If no images appear on this post, you may need to disable an ad blocker on your browser. If you enjoyed this post, please consider sharing it on your favorite social media sites.